22-24/09/23: 8th EDITION WALTER BENJAMIN PORTBOU SUMMER SCHOOL 2023 - "HISTORY AND MEMORY: EXILE AND RESISTANCE"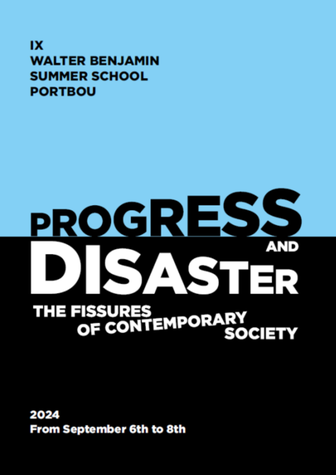 The 8th Summer School Walter Benjamin  will take place in Portbou from the 22nd September until the 24th September.  
Speakers: Cari Oriol Serres, Jordi Palou-Loverdos, Carme Alda Elorza, Sarra Barroso, Maria Gelpí, Amalia Rodríguez Monroy & Maria Maïlat. 
Featured Activities: 

- Preview of the Opera at the Liceo "Benjamin in Portbou" by Antoni Ros Marbà . Sunday 24/09/23, 11.30 a.m.
- Exhibition "FLUCHT" (Escape from a complex interior and Nazi Germany). Photographs by Espe Pons.
Opening Friday 22/09/23, 7 p.m. Visits until October 14th. 
- Screening of the film "DIE WASSER DES BUG" (The waters of the Bug) by Marc Sagnol. Film that traces the genocide experienced by Paul Celan. Satuday 23/09/23, 6.30 p.m.  
 et Présentation des livres:
-"Paul Celan & Walter Benjamin. Anthology of poems", de Paul Celan. Translation to Catalan by Antoni Pous. Prologue by Maria Maïlat. 
-"Las sin sombrero", by Tania Balló, artists and writers from Generation of'27, with the author. Interventions: Cari Oriol & Pilar Parcerisas. 
-"Walter Benjamin i la tempesta del progrés", by Agnès Sinaï, published by Fundació Angelus Novus & Edicions Reremús.
See complete programme below.
Languages lectures: Catalan, Spanish, French.  
Free admission. Reservations: info@passatgescultura.org  / +34. 660827023
Place Lectures, Film and Book presentations: Walter Benjamin House/Library (CasaWalter Benjamin/Biblioteca). Av. de Barcelona, 11.  
Place Exhibition:  Walter Benjamin Hall (Sala Walter Benjamin). Av. de Barcelona, 7.  
Place Opera: Sunday 24/09/23 (11.30 a.m.): Sala La Congesta. 
Place Commemorative Events: Sunday 24/09/23  (12.45 p.m.): Portbou cemetery.

GUIDED TOURS TO THE MEMORIAL PASSAGES TO WALTER BENJAMIN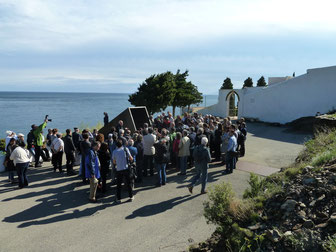 We offer an itinerary through the main passages of Walter Benjamin in Portbou, including a tour to the Memorial Passages by Dani Karavan.
The Memorial is an homage to all those anonymous fugitives who go into exile in search of freedom. Recently, the Israeli artist has been awarded with the  Premi Nacional de Cultura 2016 (Catalan Culture Award) for this art work.  
We hope to see you soon in Portbou to discover the last passage of Walter Benjamin.