25-27/09/20: 5th EDITION SUMMER SCHOOL WALTER BENJAMIN & EXHIBITION "INSULA" (until 25/10/20)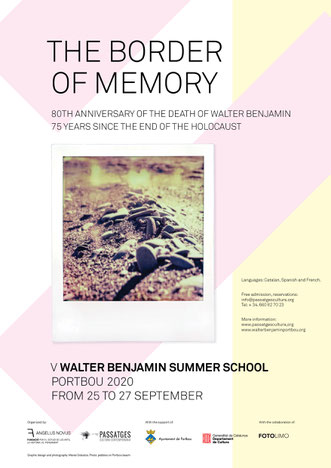 The 5th Summer School Walter Benjamin  will take place in Portbou from the 25th September until the 27th September.  This year marks 80th anniversary of the death of the thinker and intellectual Walter Benjamin in Portbou, when he decided to end his life on September 26, 1940, in this border town when he fled into exile and learned that he would be repatrieted.  It was a fateful date for this intellectual who in the same year of his death and after seven years of exile (1933-1940) wrote the theses On the concept of History, premonitory of the historical situation today, of the rise of authoritarisms, of the advance of unbridled capitalism and of the possibilities of emancipation breaking the course of history, when the past bursts into the present. The conditions of the exile of Walter Benjamin, an intellectual devoted to research and investigation in turbulent times, undermined a personality of privileged intelligence that still sheds light on the leading intellectuals of our time. 
Portbou, a wild boarder of smuggling culture, is also a "border of memory", but where 300,000 people fled in exile from the Civil War from south to north, but also many German intellectuals who crossed the Pyrenees from noth to south, as Alma Mahler, Heinrich Mann, Franz Werfel, and also Walter Benjamin. The 5th edition of the Walter Benjamin Summer School is dedicated to the "frontier of memory". We will talk about Benjamin's years of exile through his correspondance, but also about literature, art, and theater that some women, educators and intellectuals brought to culture and who died victims of Holocaust. We will remember their poetry and their creations. 
Languages lectures: Catalan, Spanish, French.  
Free admission. Reservations: info@passatgescultura.org  / +34. 660827023
ATTENTION! CHANGE OF LOCATION LECTURES. ALL OF THEM WILL BE DONE IN "CASA WALTER BENJAMIN". 
Place lectures 25 & 26/09/20: Casa Walter Benjamin. Av. de Barcelona (old town hall Portbou).  
Place performance Saturday 26/09/20: Casa Walter Benjamin (20h). Av. de Barcelona (old town hall Portbou).  
Place Exhibition INSULA: Customs Hall at Portbou International Railway Station (from 27/09/20 until 25/10/20). Opening times: Monday-Friday, 4 pm-8 pm. Saturdays, 10 am- 2 pm & 4 pm-8 pm. Sundays, 10 am- 2 pm.
Place Commemorative Events on Sunday 27th September 2020: Casa Walter Benjamin (11.30 a.m) and Portbou cemetery (12.30 p.m).  
More information about Summer School Walter Benjamin

GUIDED TOURS TO THE MEMORIAL PASSAGES TO WALTER BENJAMIN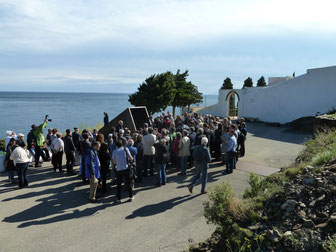 We offer an itinerary through the main passages of Walter Benjamin in Portbou, including a tour to the Memorial Passages by Dani Karavan.
The Memorial is an homage to all those anonymous fugitives who go into exile in search of freedom. Recently, the Israeli artist has been awarded with the Premi Nacional de Cultura 2016 (Catalan Culture Award) for this art work.  
We hope to see you soon in Portbou to discover the last passage of Walter Benjamin.